I haven't been able to update my blog each day so I'll tell you what I've been up to all at once.
16/07/11
I've come to stay with Emma and Alan again. I remember staying with them before and we went on a big ship – I hope we're going on one again.
Yippee! Here I am in Ocean Terminal in Southampton, waiting to get on the ship. Can't wait!!
The beds here are just as comfy as I remember – aaaaahhh.
18/07/11
We've been sailing for quite a while and have landed in Norway. It's a very pretty place indeed. Here I am by the fountain in Stavanger.
19/07/11
Today we're in a little place called Eidfjord. It's lovely here with lots of big mountains and a fast river.
You do take your life in your hands here though. First I nearly got eaten by a cat, then I had a tussle with an eagle!
At least the walruses are friendly.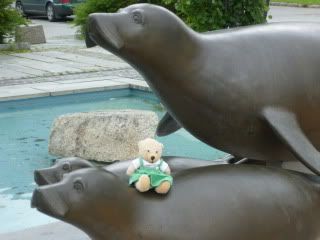 20/07/11
We are in Olden today. Here I am on the banks of Nordfjord with the ship in the background.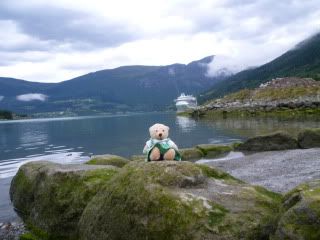 21/07/11
Phew, that was exhausting – so many stairs! It was worth it for this great view of Bergen though. It's a lovely place and the fish market is very exciting.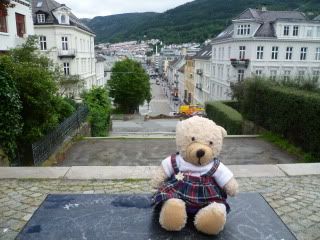 I've really enjoyed my time in Norway and have even made some new friends.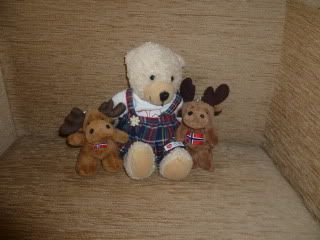 We're heading south to France now – I'm not sure if I've been there before but I've been studying some of the language to prepare myself. Au revoir for now!
26/07/11
Well how very rude! Emma and Alan went off the ship to a lovely place called Honfleur the other day and forgot to take me with them. Humph! They came back with cakes, calvados liqueur and biscuits and everything. You can go off people, you know.
Luckily they remembered to take me to La Rochelle with them today. Here I am at the entrance to the harbour.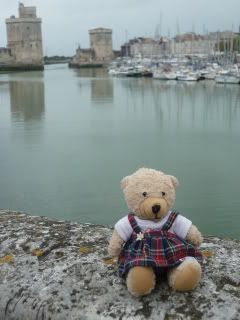 It's warm today so I decided to indulge in a spot of topless sunbathing in the privacy of the balcony.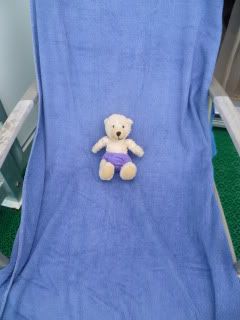 27/07/11
It's a special day today – Alan's birthday – so we all went down to the coffee shop for a coffee and a cake to celebrate. Nom!
We're in Spain now so after the cake we got on a coach to Bilbao. It was a very big place and a bit scary for a small bear but we didn't get lost.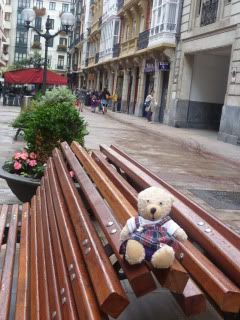 28/07/11
Phew, what a scorcher! Wall to wall sunshine today in La Coruna. Here I am on the beach. It was a very strange beach because it's made of granite so it's quite tough on your paws.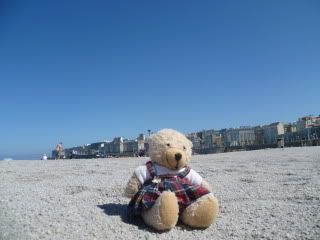 29/07/11
Today is a very special day indeed as it is Emma's 40th birthday – and she doesn't look a day over 39. I didn't see much of her during the day because Alan paid for her to have some spa treatments. She seemed very smiley when she got back. At night we went to the posh restaurant on the ship and sat outside overlooking the back of the ship it was lovely.
Ooh what shall I have – it all sounds delicious.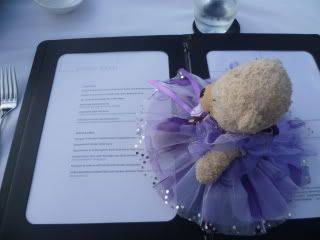 Bellinis – yum!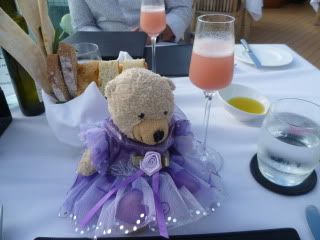 Even the bread is fab – and what a view!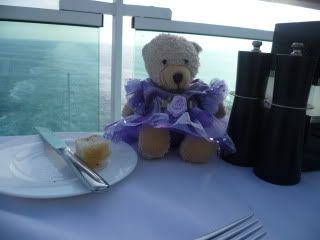 All this just for me?! Peaches poached in Prosecco – I'm stuffed!
Well it's the last night of our holiday today so time to finish packing and head home *sigh*
31/07/11
Emma decided she wanted to carry on celebrating her birthday a bit longer so today we've come to a place called Hazlewood Castle for Sunday lunch. It's got very pretty gardens...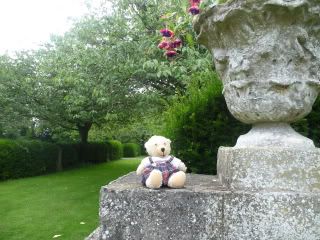 A grand staircase...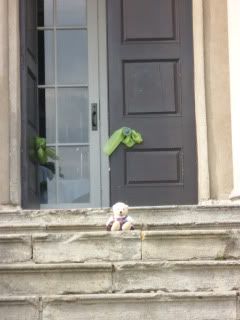 And lily ponds full of big fish.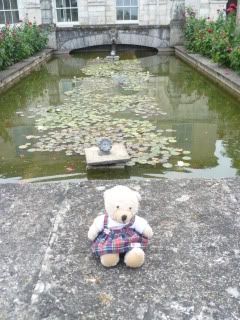 02/08/11
Back to work for Emma today – oh no, look at all those emails.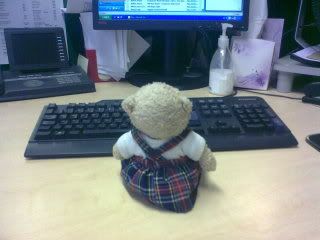 Well it's time for me to pack up my things and head off to my next family.
Is that wedding bells I can hear in the distance...